Please join EVQ in welcoming Karla Alexander back to our guild.  We hope you will join us on Thursday, August 15th at 7:00 pm for her lecture.   Karla will be teaching the workshop, Sommersault on Saturday, August 17th 10:00am-4:00pm.  Please click on workshop link below for more details.
To register for the workshop please email Emeraldvalleyquilters@gmail.codm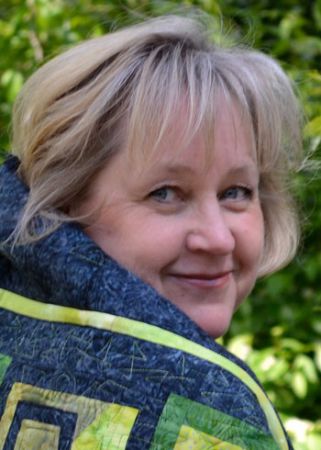 Karla Alexander, quiltmaker, teacher and author, has written four previous books; this is her fifth book on the art of quiltmaking. Karla has contributed her designs to Martingale & Company's yearly wall calendars, the Creative Quilt Collection Volume Two, as well as More Skinny Quiltsand Table Runners.
She has also developed her own quilt design business, Saginaw Street Quilt Company, which offers a line of more than 50 different designs. She enjoys creating designs that enable the maker to reason out the cuts and placement of blocks for themselves, making the final result truly unique to each quilter. Karla also believes that beautiful doesn't have to be difficult and specializes in techniques that are doable to the average or beginning quilter with just some good old-fashioned practice.
Sommersault
Please click below for the workshop supply list.